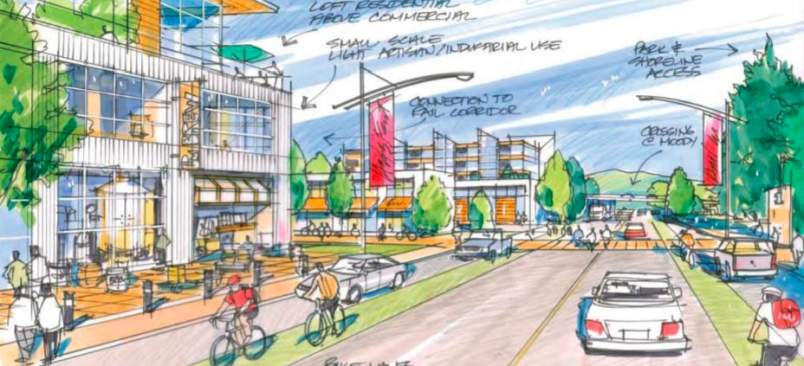 This illustration from the City of Port Moody's Official Community Plan reveals only a small part of the vision. | City of Port Moody
Port Moody real estate development on fire Major projects - including the revitalization of Coronation Park and redevelopment of the former Chisholm TV factory site - are revving into motion
Joannah Connolly Western Investor
February 5, 2018
A host of new mixed-use developments, some of them massive in scale, are either proposed or approved for the formerly "small-town-feel" city of Port Moody.
The latest residential project being proposed is for a 230-unit rental apartment building at 3370 Dewdney Trunk Road. Developer PC Urban Properties presented its plans to the city's advisory design panel in January, having last year acquired the site, which is currently home to a mobile home park with 17 pads.
If approved, it would bring the number of new rental units coming to the city to 372, after Woodbridge Properties recently received approval to build a six-storey development on St. Johns Street with 142 rental units.
Those are just two smaller developments out of the many new projects planned for the city. At one point last summer, the City was handling around 30 development applications per week, many of which are now coming to fruition. Here is a selection of major projects planned for the city.
Read more here.